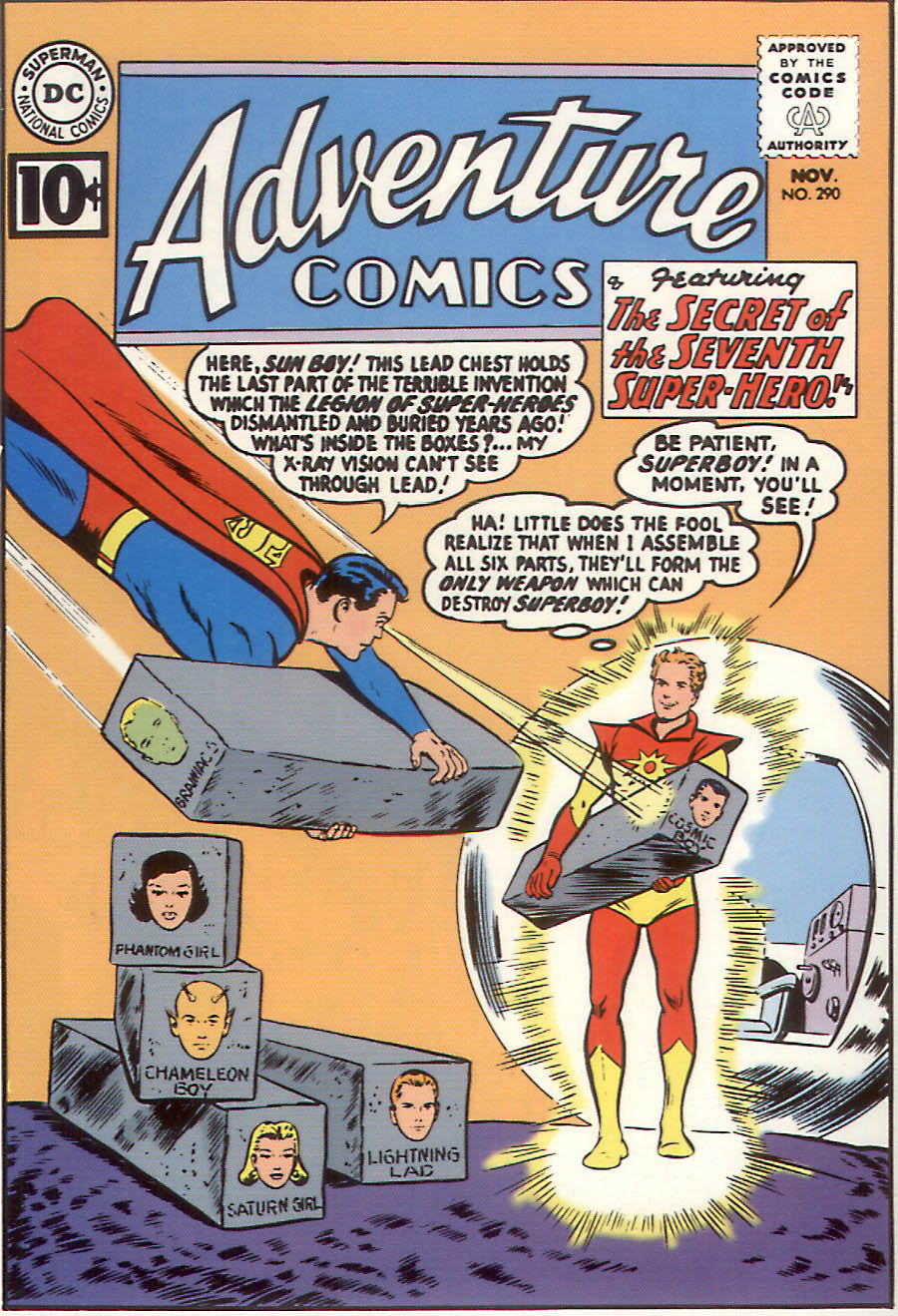 Will helping Sun Boy with his time traveling mission end up biting Superboy in his super-butt? And what mischief will Tom Tanner, a Clark Kent look-alike, get into?
This issue had two separate but intertwined story lines. Tom Tanner, Clark Kent's doppelganger, is hiding in Smallville after escaping from reform school. He takes Clark's place while Superboy is checking on a Legion time bubble which has just appeared on the outskirts of town. The super-youth who appears from within the time bubble is Sun Boy, a prospective Legionnaire. His final exam before being granted membership is to travel back in time and recruit Superboy to help him recover a super-weapon that the Legion had dismantled, split apart, and hidden in six different locations.
Unfortunately, Sun Boy is up to no good.
Superboy flies around the world finding the six lead boxes and returning them to 'Sun Boy'. While Superboy is kept busy with this task Tom is having fun pretending to be Clark. He fools Ma Kent, Lana Lang and all his schoolmates and teachers even though he doesn't act like Clark. He must look more like Clark than Clark does!
After Superboy retrieves the six boxes Sun Boy takes them and leaves for the future. After Superboy leaves 'Sun Boy' quickly returns and reconstructs the super-weapon. It turns out to be a robot with the ability to swap people's personality types. Evil people become good people and vice versa. He commands the robot to zap Superboy and turn him evil. While this is going on pseudo-Clark finds out about real Clark's secret identity. It all works out for the best when the robot mistakes Tom for Clark and zaps him into a law-abiding citizen who will keep Clark's secret identity to himself. Superboy then takes 'Sun Boy' back to the future where it is revealed he is a criminal in a Sun Boy disguise. Rules 1 and 2(d) of my Grand Unifying Theory of LoSH Asshole Behavior™ apply to this plot.

Two questions about the conclusion to this story:
Why are they on Xanthu? (Star Boy's homeworld)
Since when does the Legion have a secret hand shake?
On my Legion Jerk © scale this issue gets a:
---