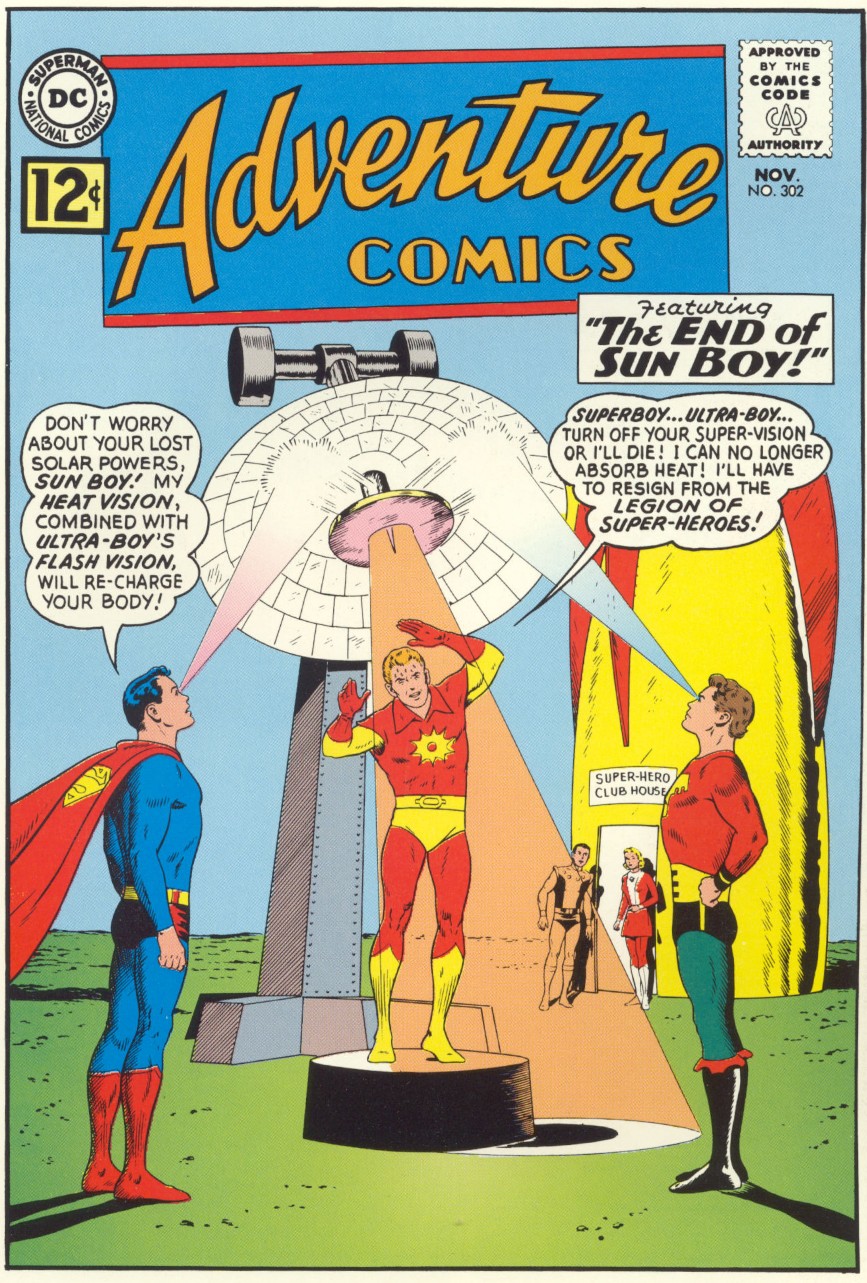 What has happened to Sun Boy? All of a sudden his powers have disappeared! Sun Boy will put his life on the line to get back his super-powers.
The issue starts with the Legionnaires attending the unveiling of statues dedicated to them. On the way back to the clubhouse Sun Boy's powers disappear (it's never explained why). Sun Boy starts to get worried. You see, no super-powers means that Sun Boy will be ejected from the Legion. This is one of those 'jerk clauses' in the Legion Constitution. There's no waiting to see if a member's powers come back or maybe a desk job where super-powers are unnecessary. Nope, the Legion has no room for mundanes (at least in this version).
Next comes Sun Boy's adventures to regain his super-powers. Logic doesn't seem to be Sun Boy's strong suit, the attempts he makes to get his super-powers back make no sense! "I can generate heat, therefore hanging me over a volcano will return my powers!" Luckily for Sun Boy his experiments don't kill him, the last even succeeds! It was dumb luck, I'd guess that 99.99% of the time if you get enveloped in flames from a Kryptonian Flame-Beast you'd get turned into a crispy critter.
Now that Sun Boy has his powers back he gets revenge on super-thug Kranyak and his gang. Kranyak, who was imprisoned after being captured by Sun Boy, tried to get revenge on him when he heard Sun Boy had lost his powers. Sun Boy makes short work of Kranyak and his pals and turns them over to the authorities.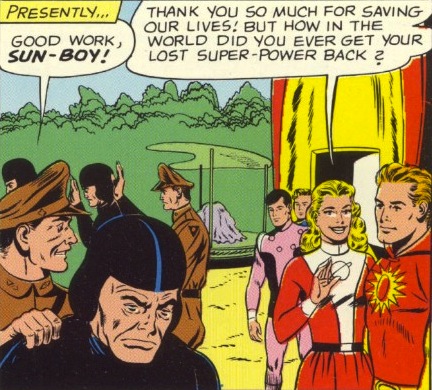 Ultra Boy and Superboy turned out to be robots. Not because it's imperative to the storyline but because robots are cool.
OK, they did shoehorn it into the storyline but it wasn't necessary.
On my Legion Jerk © scale this issue gets a:
---