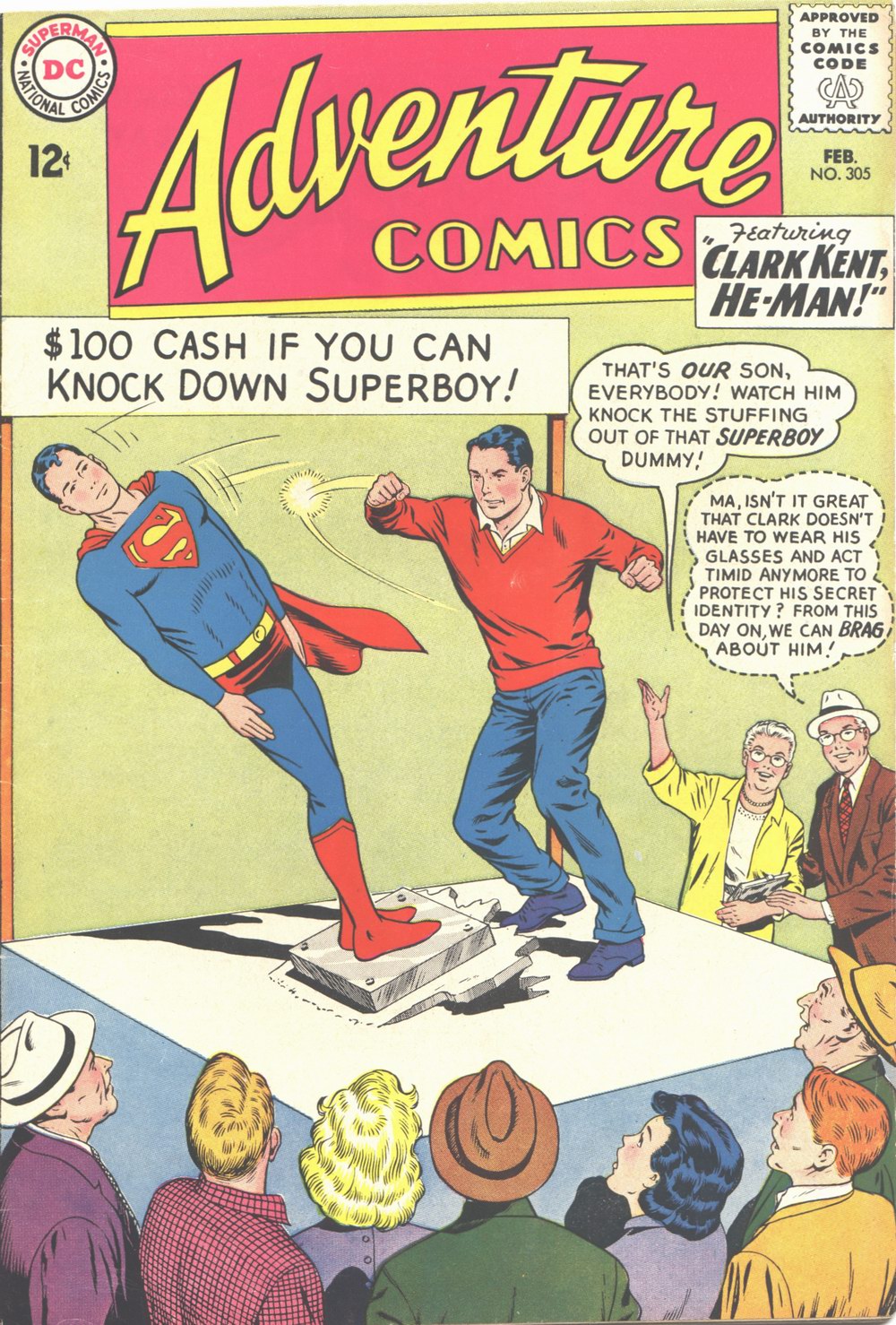 It's another round of tryouts for the Legion! This time a mysterious youth named Legionnaire Lemon AKA Marvel Lad tries out. He might turn out to be the most powerful Legionnaire ever!
Before we get into the nitty-gritty of this issue let's cover the two rejected candidates.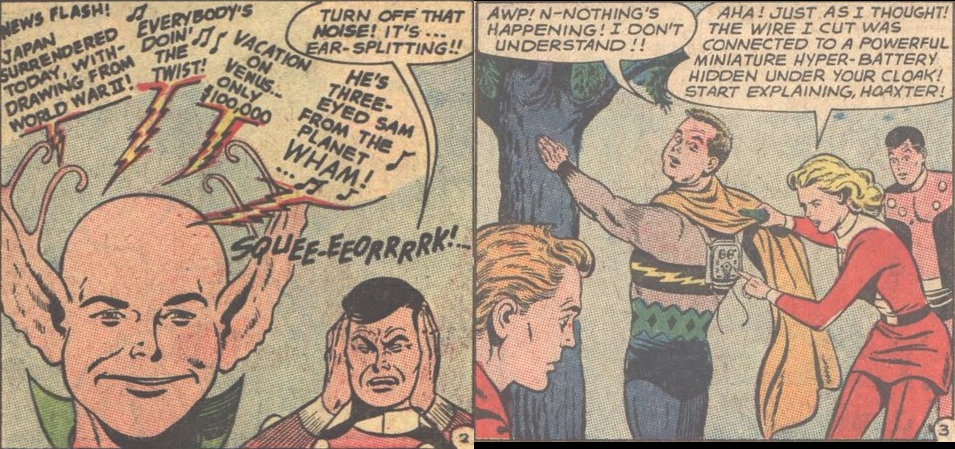 • Antennae Boy: rejected because he didn't have full control over his power (and it was annoying).
• Dynamo Kid: rejected because he was a reporter in disguise and his powers were artificial.
Hey, Antennae Boy's power feels familiar to me…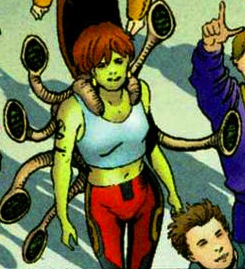 This issue starts with the Legionnaires standing around mourning over Lightning Lad death (again). As I pointed out here this isn't healthy behavior. C'mon, they keep Garth's body in a transparent casket! Bury the boy and start getting over it. His body on display is just a constant reminder of both his death and to Saturn Girl his sacrifice to save her life.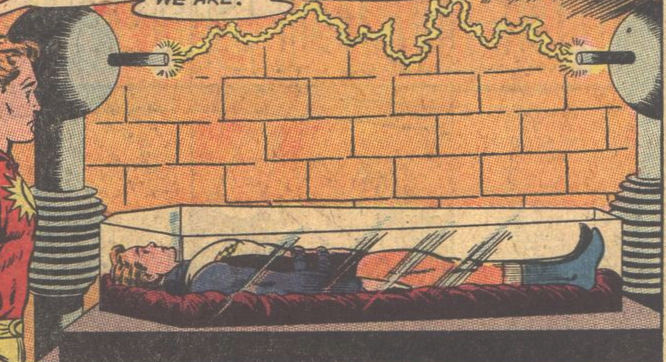 After the crying concludes the Legionnaires get down to business. The first two prospective candidates wash out quickly. The third candidate, who goes by the ridiculous name Legionnaire Lemon (and the slightly less ridiculous name Marvel Lad) actually seems to have the right stuff to join the Legion.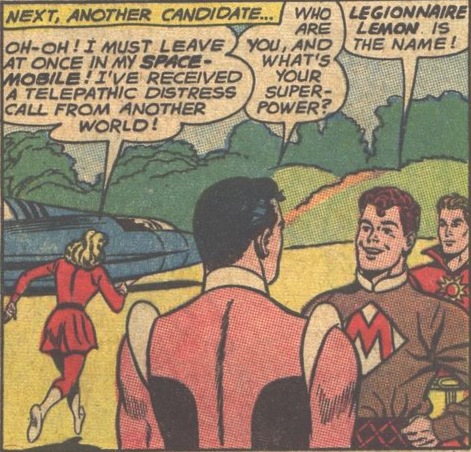 The next step before Marvel Lad can join the Legion is to pass the initiation tests that Cosmic Lad pulled out of a hat. This part of the Legion tryout process seems to be arbitrary since not all candidates get this second level of testing. One of the initiation tests is for Marvel Lad to stop a Sun Eater which Mr. Lemon does very easily. This must be a baby Sun Eater because the next one the Legion encounters requires the entire Legion plus the Fatal Five to stop it.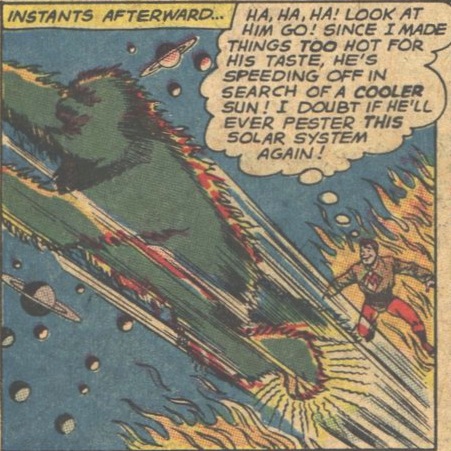 Turns out Mr. Lemon is actually Mon-El in disguise. Brainiac 5 finally perfected his anti-lead poisoning serum but didn't want to tell his fellow Legionnaires for 24 hours, lest it not work. Mon-El decided to have some fun with his teammates by pretending to be prospective member Marvel Lad. He also ruined the Legionnaire's chances of finding any new talent because as soon as he showed his powers the tryouts were adjourned. Granted, the first two candidates stunk but who knows what other individuals showed up? But hey, Mon-El pulled quite the boner on his pals, right?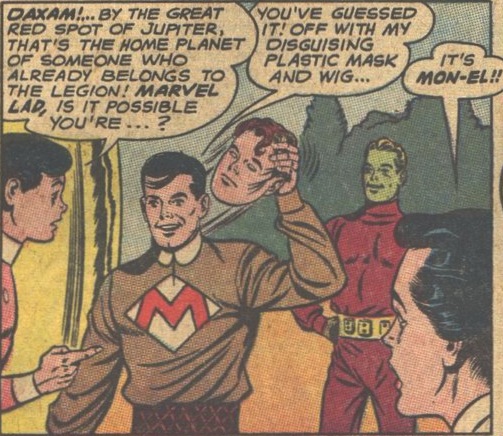 In a last act of unsportsmanlike behavior Mon-El decided to return to the Phantom Zone to taunt the insane super-criminals still imprisoned there. Because there's absolutely no way they will hold a grudge, right? And I'm sure there's no chance they will ever escape either.
On my Legion Jerk © scale this issue gets a:
---